6 Best Kitchen Appliance Packages
by Pete Lader January 18, 2022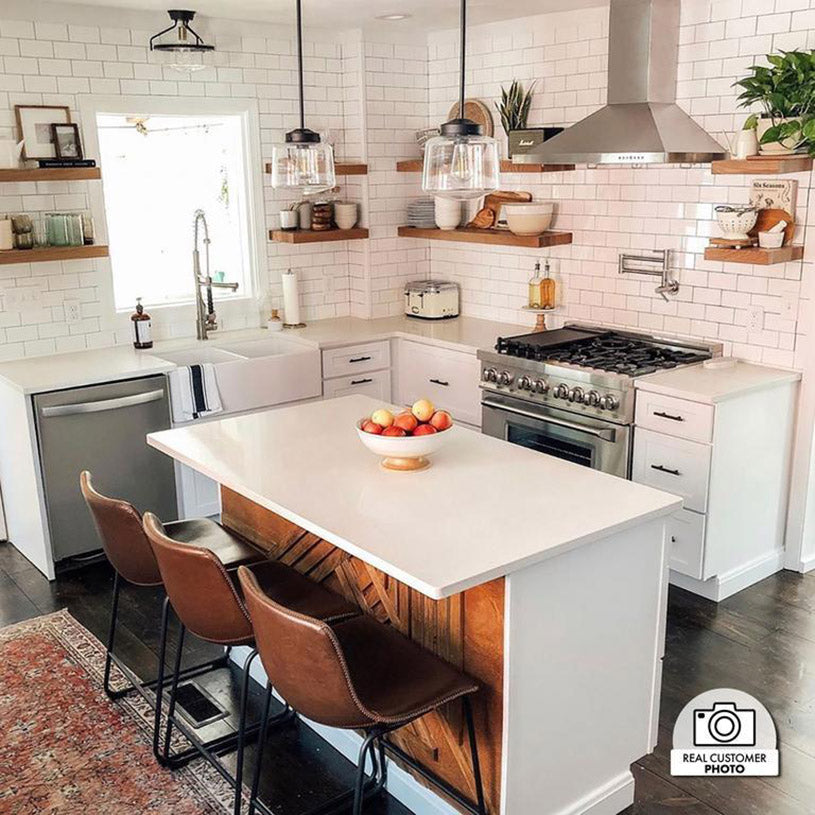 If you're getting ready to move into a new house or are redoing your kitchen, you might want to consider upgrading your appliances with a package. Bundling your appliances can save you big bucks — over hundreds or thousands of dollars — and ensures that you get high-quality appliances that match. Plus, it typically means placing one order and coordinating one shipment, which saves you time and hassle.
Luckily, our kitchen appliance packages come in many different configurations to suit your exact needs. Whether you want to replace your gas or electric range, cooktop, microwave, dishwasher, wine cooler, refrigerator or all of the above, there's an appliance bundle that will tick all your boxes and save you money at the same time. Here are some of the best kitchen appliance packages for your consideration. 
Shop Our Entire Selection of Kitchen Appliances
1. Biggest Money-Saver: ZLINE Kitchen Appliance Package – A leader in professional-grade appliances, ZLINE is known for their commitment to providing homeowners with attainable luxury. This cost-effective ZLINE appliance package includes a 36-inch dual fuel range, a range hood, a microwave drawer and a dishwasher.
It saves you 41 percent off the sticker price, so it's ideal for those looking to keep their budget in check. Prefer the look of black stainless steel? ZLINE also makes an assortment of striking black kitchen appliances that we're happy to bundle.
2. Best for Entertaining: Thor Kitchen Appliance Package – Want to upgrade every workhorse in the kitchen to accommodate a big family or lots of large gatherings? Consider this bundle from Thor Kitchen, which can save you 18 percent compared with buying each appliance individually. It includes a 48-inch gas range, a range hood, a refrigerator, a dishwasher and a wine cooler.
This amazing Thor appliance package is one of the best for those who want a larger gas range, as it features a seven-burner range with dual oven compartments for enhanced cooking. Prefer an electric range? We've got many Thor bundles featuring their professional electric ranges with high-tech induction cooktops, even in compact sizes.
3. For the Wine-Lover: FORNO Kitchen Appliance Package – If you're in the market for a bundle that accommodates your need for wine storage, you'll love this combo from FORNO. 
Coming in at 18 percent off when compared to buying individually, this package includes a gorgeous 48-inch gas range, a range hood, a refrigerator, a microwave drawer, a dishwasher and a triple zone wine cooler that can store up to 108 bottles of wine.
4. For the Design-Lover: ZLINE Red Colored Range Package – Colorful kitchen appliances have been called "the next big kitchen trend," and we love seeing customers and contractors bring it to life in their own way. 
If you don't envision your fresh new kitchen design with standard black or stainless-steel appliances, you'll love this bright range package featuring a 48-inch dual-fuel range with either a red or blue door and a matching range hood. We offer a huge assortment of attractive ranges from ZLINE and others that can be bundled to your preferences.
5. Best for the Ice-Lover: Thor Appliance Package with Ice Maker – If you constantly find yourself making trips to the gas station for bags of ice, consider an appliance package with an ice maker. This one from Thor includes a 48-inch gas range, a range hood, a refrigerator, a dishwasher and a compact yet powerful 15-inch ice maker that produces up to 50 pounds of ice per day. 
This package is perfect for the entertainer who loves to mix up cocktails and host patio parties throughout the summer.
6. For the Budget-Conscious: ZLINE 30-Inch Kitchen Appliance Package –  Want to upgrade a few core appliances without spending an arm and a leg? This cost-effective ZLINE package comes with a 30-inch gas range, a traditional over-the-range microwave and a dishwasher. It rings up for under $4,000 for everything.
When compared with buying each piece on its own, this package can save you 50 percent.
We know not everyone has the same appliance needs, so we're always happy to help you build your own bundle. Give us a call (800-805-7102, ext. 1) or send us an email (sales@premiumhomesource.com) to work with a member of our team to create your own appliance package. We'll happily put together a custom appliance package that suits the style and dimensions of your kitchen and honors your unique cooking and entertaining preferences.