5 Best Outdoor Grills
by Pete Lader May 13, 2022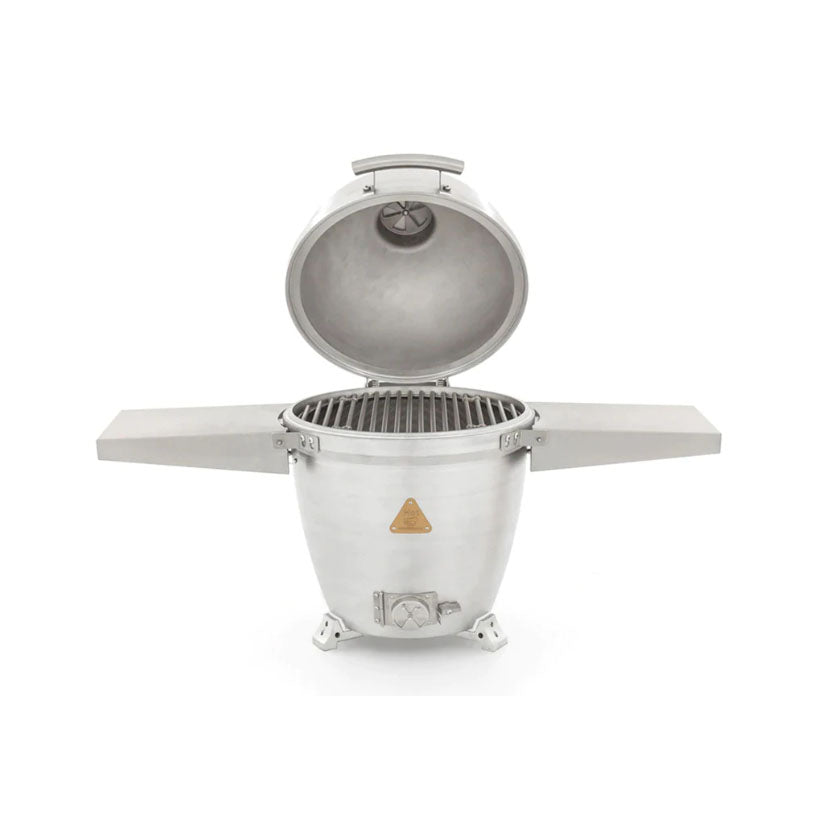 What better way to spend the summer than grilling juicy meat and creating smoky BBQ dishes for friends and family? However, a grill master is only as good as his tools. So, set yourself up for grilling success and outfit your backyard with a high-quality outdoor grill. Explore five of the best outdoor grills from Premium Home Source, guaranteed to deliver delicious results. 
Enjoy smoked meat and fish, cooked low and slow, with a Kamado grill. Although slightly more temperamental to use than other types of outdoor grills, a Kamado offers incredible versatility, allowing you to handle any backyard cooking task, from searing steaks to slow-smoking brisket to baking wood-fired pizza.The Blaze 20" Kamado Grill is the industry's first model made entirely of cast aluminum. The 1¼" thick grill walls provide unrivaled durability and heat retention and come equipped with a cast molded exhaust cap for optimal temperature control.  
Start Grilling, Shop Our Quality Outdoor Grills
The compact design and ease of use make portable grills ideal for campers and dedicated tailgaters. While they may not offer the same spacious cooktop and generous power output as backyard charcoal or gas grills, a portable option gives you the freedom to whip up a spectacular BBQ'd meal in any location. 
The Blaze Marine-Grade Professional Portable Grill is crafted from 316L stainless steel, offering rugged durability whether you are enjoying a cookout on your boat or outside your RV. The cooktop features a heavy-duty cast stainless steel H-burner with a 12,000 BTU output and 12mm hex-shaped cook rods for flavorful sears. It is powered by a 1-lb. propane cylinder; however, you can also equip it with a tank adapter to fit a 20-lb. tank for longer cook times. 
Unlike outdoor gas grills, charcoal models have no maximum temperature limit, allowing you to generate intense heat ideal for getting the perfect sear on your steak or chops. The charcoal fuel also adds a succulent, smoky aroma to your foods that can't be achieved with a gas or electric model. 
One of the best Blaze outdoor grill models available is the Stainless Steel Charcoal Grill, featuring four individual cooking grids, outfitted with a simple hook-and-hang system so you can add additional charcoal or aromatic wood chips to the grill while cooking to flavor your dishes. The grill hood is double-lined to minimize external heat transfer and reduce lid discoloration from the smoke. It is also fitted with a rear vent for temperature control and a pull-out ash tray for quick and easy clean-up. 
Opt for a low-emission natural gas grill for an eco-friendly grill for your backyard. Natural gas grills are hooked directly to your gas main, ensuring you never run out of fuel mid-grill session. It is also more affordable to operate, with natural gas costing at least a third less than propane.
The Blaze Professional Built-In Natural Gas Grill offers a generous 1,040 sq-in cooktop with Heat Zone separators to create distinct grilling zones, allowing you to cook a range of items to the perfect temperature on the same surface. Despite its gas-conserving design, each of the four main burners delivers 18,000 BTUs of cooking power, and the rear infrared burner generates 10,000 BTUs. The Professional Natural Gas Grill also has a built-in illumination system with hood and knob lighting, allowing for easy evening entertaining. 
Protect Your Outdoor Grill with Our Grill Covers
Propane outdoor grills are the go-to option for no-fuss grillers who frequently host backyard cookouts. The simple push-button ignition, fast heating time, and low maintenance design make them one of the most popular grill styles available. The Blaze 32" Premium LTE Propane Gas Grill features four 304 stainless steel burners which produce an impressive 14,000 BTUs of power each. It also comes with an integrated 10,000 BTU rear burner, which uses infrared technology and is compatible with outdoor grill accessories like the rotisserie kit to create juicy BBQ chicken or doner kebab. 
The 748 sq-in cooking area is equipped with the brand's patented triangle-shaped searing rods, offering the flavor of charcoal-seared meat without the messy clean-up. The cooktop also has full-width, 14-gauge stainless steel Flame Tamers to reduce flare-ups and eliminate cold spots for safer, more flavorful cooking. 
Grill Smarter with Premium Home Source Outdoor Grills
Take your grill skills to the next level with a high-quality outdoor grill from Premium Home Source. Whether you prefer the low, slow cooking style of a Kamado or the convenience of a portable grill, we have an extensive range of Blaze outdoor grill models to ensure your BBQ dishes are cooked to perfection every time. 
Explore the full range online or contact our friendly Sales team at (800) 805-7102 for more information on our products.