Thor Kitchen 48 Inch Gas Range Review - HRG4808U vs. LRG4807U
by Pete Lader August 02, 2021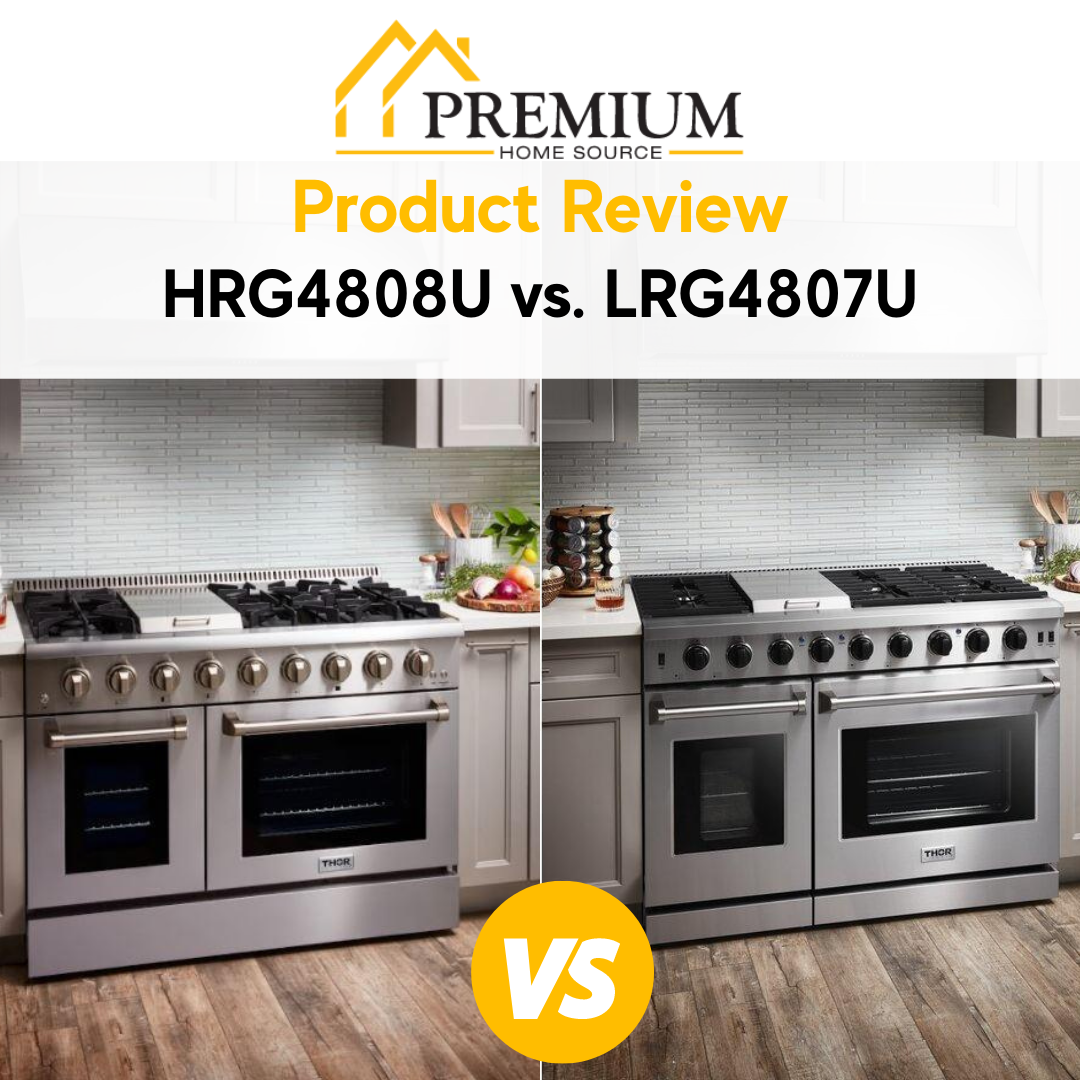 What is the difference between HRG and LRG series? In this article, I'll explain the key differences between two of Thor Kitchen's best selling ranges, the LRG4807U and HRG4808U. Both of these are 48 Inch Gas Ranges which score and rate incredibly high in both affordability and quality. Is it worth it to pay extra for the HRG48048U? Read to find out!
Summary of HRG4808U vs. LRG4807U:
HRG Series
LRG Series
Natural or Propane Gas

HRG4808U - Natural Gas
HRG4808ULP - Propane Gas

LRG4807U - Natural Gas
LRG4807ULP - Propane Gas
Knob Design
Stainless Steel
Black Heat Resistant ABS - Plastic
Oven Interior
Blue
Gray Porcelain
Total BTUs of Cooktop
114,000 BTU
93,000 BTU
Oven Capacity
Total of 6.7 cu. ft.
Total of 6.8 cu. ft.
Ball Bearing Racks
Yes
No
Storage Drawer
No
Yes
Convection Oven
Yes
Yes
Infrared Broiler
Yes
No
Price for Natural Gas:
$5,799
$4,399
Spec Sheet
HRG4808U Spec Sheet
LRG4807U Spec Sheet
Knob Design
Thor is definitely known for providing variety, and while all, if not most ranges are crafted by stainless steel, they've also made sure to provide a variety of knobs with a timeless aesthetic. However, each series has its own unique hardware. 
Thor's HRG series are designed with heavy-duty stainless steel knobs that provides stability and increases the range's longevity. The LRG series is designed with black ABS Knobs, and although these may not be stainless steel, ABS has high tensile strength and can withstand heavy heat use. 
The obvious main difference here is that the HRG provides the color of Stainless Steel and the LRG series has black knobs.
Oven Interior & LED Lighting
The interior is the best part of the range and Thor Kitchen has definitely nailed it.  
In the HRG series, LED lighting is placed so you can see what you are cooking, however, there is more! The knobs light up with a brilliant blue whenever the burner is on as a constant safety reminder. Neat right? Additionally, LED lighting is also placed within the oven, resulting in the blue interior.
If you are looking for a more classic style, the LRG series has a timeless grey Porcelain Interior.
Oven Capacity & Cubic Feet
Oven capacity on ranges can vary depending on the model and series. This is the same case with HRG and LRG ranges. So, let's compare Thor's 48 in. Gas ranges. 
This HRG 48" range has a total oven capacity of 6.7 cu.ft. with a small oven capacity of 2.5 cu.ft and large oven capacity of 4.2 cu.ft. 
48" LRG ranges have a total oven capacity of 6.8 cu.ft. with a small oven capacity of 2.2 and large oven capacity of 4.6.
In summary, the difference between Thor's 48" ranges are that the HRG has a bigger, smaller (left) oven, but smaller, larger (right) oven than the LRG.
PSA: The oven capacity you chose is 100% your choice and all depends on which oven best suits your cooking style! 
Burners & Higher BTU's
You can spot the difference between the HRG and LRG by their burners. Thor ranges feature high powered BTU burners for optimal cooking performance. However, the number of BTU can vary depending on the series. Thor's HRG ranges has a higher aggregate BTUs than the LRG.  
The HRG4808U delivers a total of over 114,000 BTU while the LRG4807U delivers a total of 93,000 BTU. With more BTUs, you have more flexibility and control over the food you make! The HRG4808U also includes a simmer function at 650BTU.
The HRG series gives you the power to cook for large family meals and the consistent low heat to cook your family sauces or melting chocolate. 
Ball Bearing Racks
Ball bearing racks have become a big hit accessory in ranges. These allow oven racks to slide smoothly in and out of the range and overall contributes to the sturdiness and professionalism of the range. Sounds interesting?
Ball bearing racks are provided only with Thor's HRG ranges with their trademarked technology called LuxGlide™ Telescopic Racks. This luxury feature allows the rack to extend fully without ever tipping over for a smooth, easy handling of even the heaviest foods and dishes. 
Storage Compartment
A great addition to many Thor ranges is that it has a storage drawer located at the bottom of the range. Many consumers love this as a place to hold pots and pans for easy access when cooking. Storage space is evident in LRG ranges, however, Thor's HRG series do not provide this this storage component.
Now that you know the differences between Thor's HRG and LRG series, you can start shopping for your perfect range.
Head over to Shop Premium Home Source.